Posted by English Language Learning on April 26, 2017
The following blog post was written by Glen Cochrane, a faculty member at the Centre for Excellence in Immigrant and Intercultural Advancement.
At the end of 2016 we launched the eLearning Toolkit, a resource for ELL instructors and course developers teaching in a variety of online ELL contexts.  
We introduced this new resource to English language learning professionals across Alberta through webinars, workshops, and blog posts. Based on initial feedback of the eLearning Toolkit we quickly discovered that the animated slidecasts are one of the most popular resources in the toolkit.  
This past month we have added five additional animated slidecasts to our collection and updated the three animations that already existed. Here is a summary of the slidecasts:
Barriers to Learning
An overview of the barriers that learners might face when learning online
Calling Tech Support
Step-by-step help for learners who may need to call technical support during their online course
Netiquette
A brief introduction to the idea of netiquette 
Presence in Online Language Learning
An introduction to the idea of presence in online spaces and suggestions for how to develop presence
Facilitating Discussion Forums in Online Language Learning
Advice for instructors on how to effectively facilitate a discussion forum for language learning
Discussion Forum Tips
Advice for learners on the importance of discussion forums and how to make the most of them
Example of an Effective Discussion Forum Post
An overview of the features of a good discussion forum post 
Participating in Online Language Learning
Strategies for learners to be successful in online language learning
In addition to the new animations, we've also added a new way to search for them.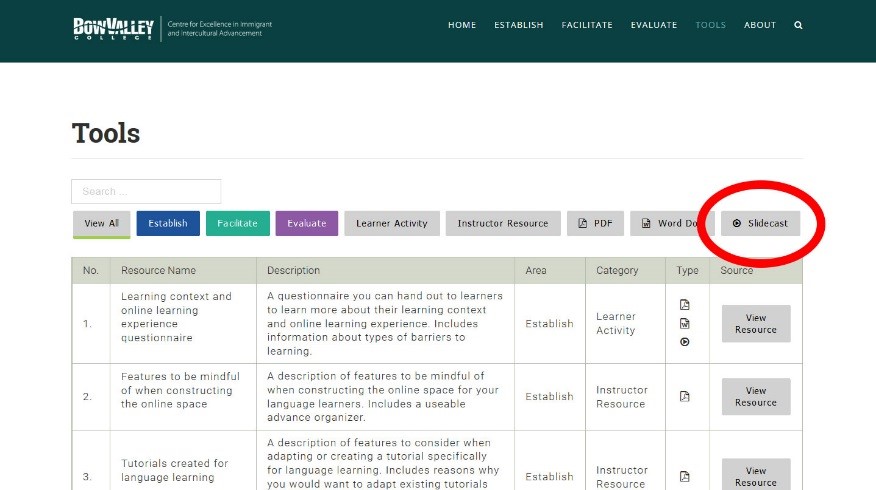 First, go to the eLearning Toolkit: https://centre.bowvalleycollege.ca/elearningtoolkit/.
Then, click on the "Tools" option across the top of the page.
Once you are on the Tools page, click on the "Slidecast" filter button. (Circled red in the screenshot above) 
After you click on the "Slidecast" filter button, you will see all of the resources that include at least one slidecast.
Access the resource page by clicking on the "View Resource" button in the right-side column, and then look for the green "View Slidecast" button.
We have found that the slidecasts appeal to instructors because they are directed at and can be shared with learners. They give learners a chance to practice their listening skills while they learn digital literacy skills related to online language learning. Share them with your learners, and let us know any suggestions you have for future animated slidecasts.