Posted by English Language Learning on May 9, 2016
Since 2005, VESL (the Volunteer ESL Tutor Training Project) has supported the professional development of volunteer ELL tutors throughout the city of Calgary. The project is funded by Calgary Learns and is the collaborative effort of three Calgary ELL service providers with long standing volunteer programs: Bow Valley College, the Calgary Public Library, and the Calgary Catholic Immigration Society. VESL is proud of the contributions that volunteers make to our ELL programs and the lives of learners.
The following story features Eva, a Calgary Catholic Immigration Society volunteer.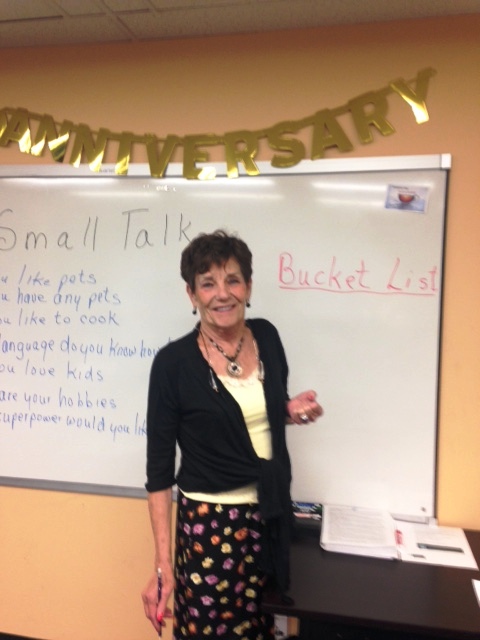 Eva has been volunteering with CCIS Senior Connections Program since 2015, teaching a seniors ELL class. She's very popular among her learners, and as a result her class keeps growing. She skillfully manages the fluctuating class size and language levels, magically meeting the varied needs of the students. CCIS appreciates such flexibility. Although English language learning is a key element of the Senior Connections Program, fostering of social connections and reducing isolation is equally important. Therefore, it is difficult to turn learners away. Eva kindly accepts them.
Eva's career was in accounting and business, but she decided to become an ESL teacher after a downturn in the economy. Her teaching skills were honed during her time teaching ESL in China, South Korea, and Mexico. Now retired, Eva enjoys teaching ESL as a volunteer. In addition to teaching the Seniors ESL class at CCIS, she also tutors an older couple just new to Canada from Syria. This couple is faced with various challenges in adapting to life in Canada, but having Eva's support and dedication will no doubt ease some of the challenges. They are really happy for her time, patience and knowledge as they persevere with learning English. Eva derives satisfaction in seeing students come out of their shell and, with humor, overcome their fear of speaking English.
CCIS is thankful for all Eva does for the program and for the compassion she conveys to the learners she helps.