Posted by English Language Learning on January 13, 2017
Since 2005, VESL (the Volunteer ESL Tutor Training Project) has supported the professional development of volunteer ELL tutors throughout the city of Calgary. The project is funded by Calgary Learns and is the collaborative effort of three Calgary ELL service providers with long standing volunteer programs: Bow Valley College, the Calgary Public Library, and the Calgary Catholic Immigration Society. VESL is proud of the contributions that volunteers make to our ELL programs and the lives of learners.
The following story features Shelini, a volunteer tutor with the Calgary Catholic Immigration Society (CCIS).
CCIS Senior Connections Program has been fortunate to have Shelini as a volunteer for the past six months. Shelini tutors ELL to a group of seniors at 1000 Voices, a community space at the Genesis Centre.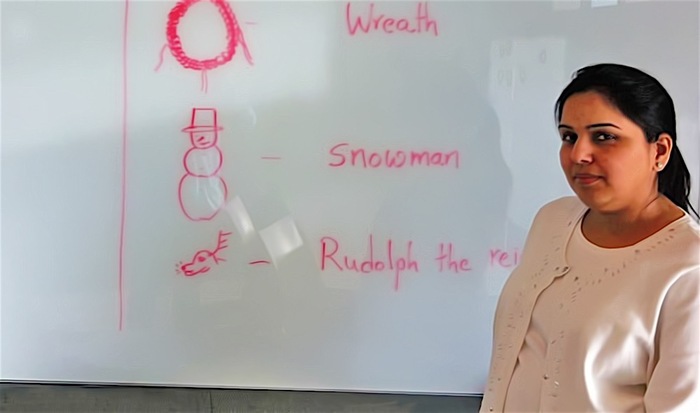 The particular class provides an important service to the community as it caters to a specific, vulnerable demographic with unique needs. Many of the learners are quite isolated and came to Canada with no English language experience. Along with her teaching skills, Shelini conveys tremendous patience and kindness in her interactions with the learners. It is easy to see how much the learners love her and appreciate her work with them. 
Outside of her volunteer work, Shelini is employed at 1000 Voices full-time as a resource worker. She has a lot of knowledge of community resources. If one of her learners comes to her with an issue they are dealing with, she helps connect them to appropriate resources. She goes above and beyond what's required of her. It is obvious that Shelini genuinely cares for her students. She gets enjoyment from seeing their progress and knowing she is making a difference in their lives. And there is no doubt she is making a difference!