Posted by Intercultural Centre on February 5, 2016
The following blog post was written by Kelty Christensen, Learner Engagement Officer at the Centre for Excellence in Immigrant and Intercultural Advancement. This blog story is part of the ongoing blog series IC Volunteer Spotlight.
ICan Crew Community Volunteerism members give their time to the IC in different capacities ranging from campus and community involvement to event and workshop support.  The IC looks for opportunities to engage with learners in ways that are meaningful to them.
Recently, I met with Alisha Walji, one of the ICan Crew volunteers, to talk about her experience in volunteering with the Intercultural Centre. Alisha's answers have been paraphrased to reflect her answers from text, facial cues, and an interpretation by her assistant.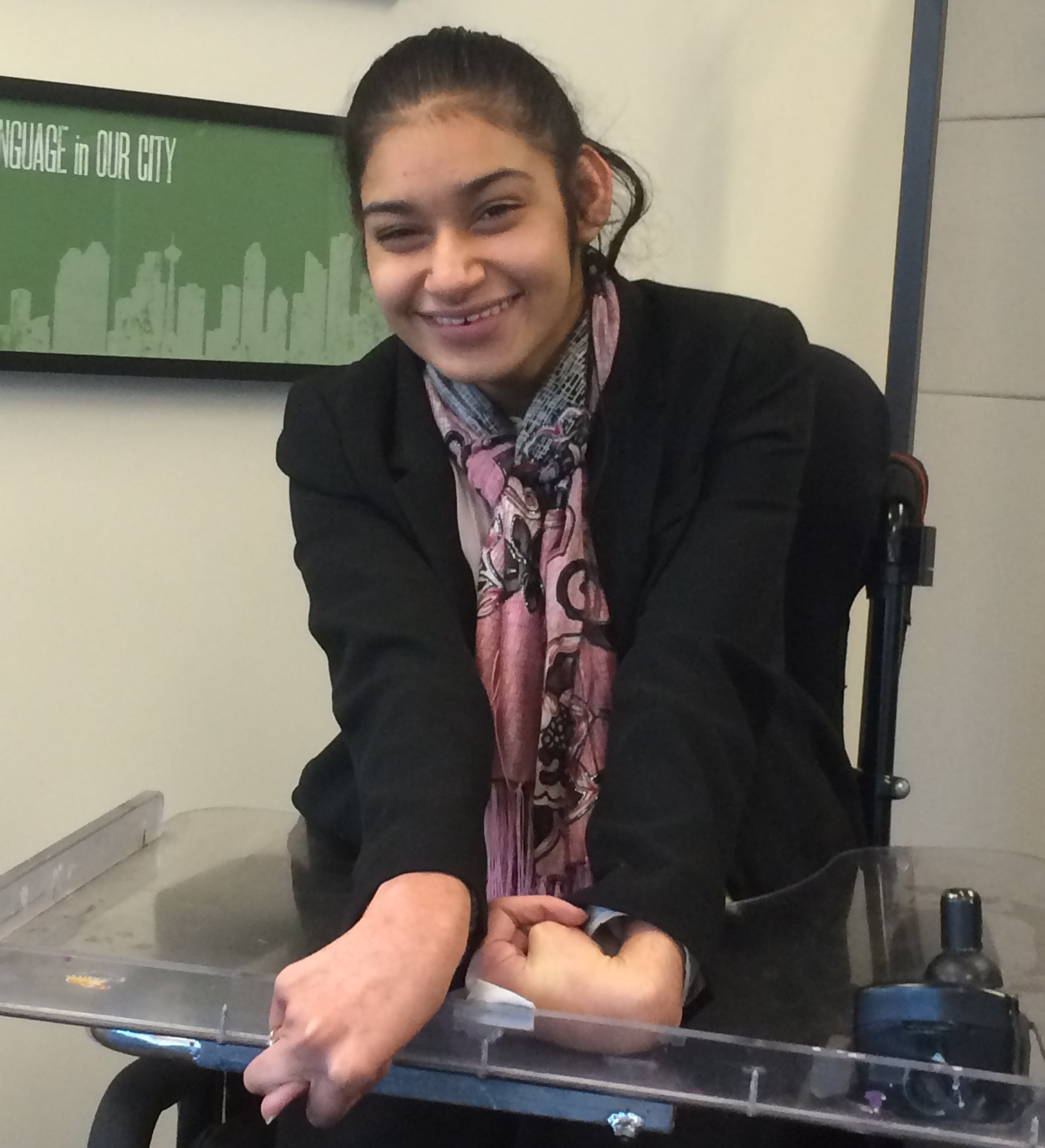 How did you hear about volunteering with the Intercultural Centre?
I saw some cultural events on campus and I started to look into who hosts these events at the College. I found my way to the IC, where I heard that students can volunteer. I am interested in different cultures, food, clothing and music and that is what first drew me to the Intercultural Centre.
What program are you registered in at BVC?
I am auditing the Dental Business Assistant program through Inclusive Post-Secondary Education which is an initiative through BVC Learner Success Services. I have been at the college for 2 years.
Have you been involved in volunteering before?
I spent one summer volunteering for the Heart and Stroke Foundation.  I was responsible for data entry of donor information.  I received a SCIP grant of $1000 for this!  SCIP is a grant that students enrolled in post-secondary and volunteering for a non-profit organization can apply for through the Alberta government.  This is my first time at volunteering at the college.
What are your volunteer responsibilities with the IC?
I support the IC by documenting attendee feedback from IC events and workshops. I'm also hoping to get involved with some of the events that the Intercultural Centre hosts.
What are you hoping to gain from volunteering?
I want to practice my typing, send professional emails and attachments, meet new people and gain confidence in communicating with people.
What has your experience been like so far?
I like it!  It is good practice for typing.  It's a good challenge for me.  I like the space, the people are friendly and nice.  You can learn new skills and meet people.  I am shy, but I am feel more like communicating with people there.  It makes me smile.  
What would you like for people to know about you?
I like to hang out with my friends at Tim Hortons and drink Iced Caps!
The Intercultural Centre welcomes all volunteers. If you would like to get involved, please contact intercultural@bowvalleycollege.ca