Posted by Research and Development on April 11, 2017
The following blog post was written by Dr. Martha Fanjoy, the principle investigator of the SSHRC-funded project Enhancing Wellbeing and Civic Engagement of Immigrant Women Retirees.
March was a busy month for our SSHRC-funded research team as we attended two conferences to share learnings from phase one of our project exploring how to enhance the wellbeing, civic, and social engagement of immigrant women retirees.
Our panels at the National Metropolis Conference in Montreal and the Gender, Immigration, and Integration conference hosted by the Calgary Immigrant Women's Association and Immigration, Refugees and Citizenship Canada both focused on new methods and ideas for applied research with ethno-cultural communities. The presentations emphasized the importance of a life course approach – considering the impact of migration and settlement throughout a life – as well as highlighting innovative methods to engage project participants in our work, including co-creation and participant observation.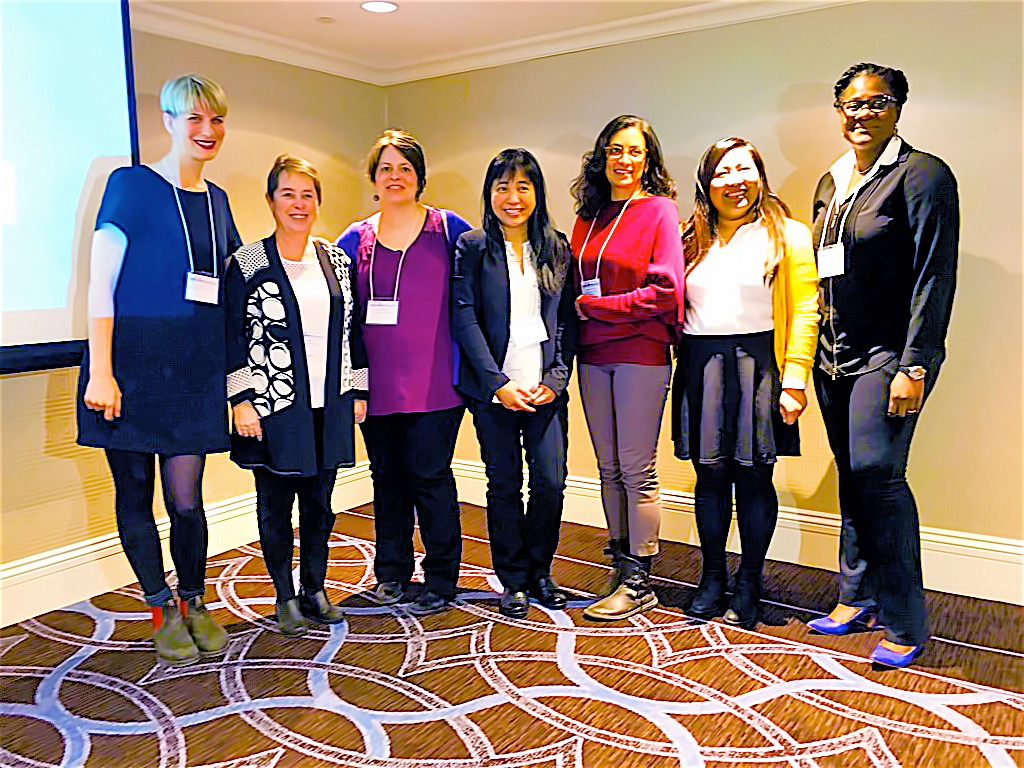 Organizing a panel for Metropolis, our team invited four researchers from the University of British Columbia, University of Toronto, and Sheridan College whose work complements a life course approach, to present alongside us on issues immigrant women face as youth, working mothers, retirees, and vulnerable seniors. Each talk presented the innovative methods developed to access and actively engage participants. At the Gender, Immigration, and Integration Conference panelists shared promising practices for developing gender specific services for women across all age groups.
Together with our colleagues we highlighted promising practices for participatory projects including:
Getting out of your comfort zone – take the project to where participants are. One project reached out to isolated seniors through flyers placed in take-out menus at ethno specific restaurants, another conducted outreach at pharmacies, and others went to physical fitness classes.
Broadening your definition of expert - all of the projects involved some form of community engaged co-creation that welcomes participants, whether youth, mothers or seniors, to actively engage in designing the questions the project asks, the methods used to answer them, and the implementation of the resulting solutions.
Along with project specific learning, the team had an opportunity to hear about research taking place across the country. At Metropolis the discussion largely focused on Syrian refugees and how settlement is progressing after a year. The Calgary conference highlighted important work on gender specific services and raised questions about the need for specific versus broad based service provision and discussed how to share learnings and resources between rural and urban areas.
Attending conferences to share our work is both important and necessary but the real reward is the team gaining a greater understanding of how our work fits into the larger picture. Thanks to these panels, this month we came away with more questions and ideas than we went with, an ideal result for any researcher. With these new learnings guiding us on, the team now turns our attention to phase two of our project as we continue to examine the experience of immigrant women retirees. To learn more about our project, please get in touch with me at mfanjoy@bowvalleycollege.ca.
Working in partnership with the Calgary Immigrant Women's Association, this research is supported by the Social Sciences and Humanities Research Council of Canada.